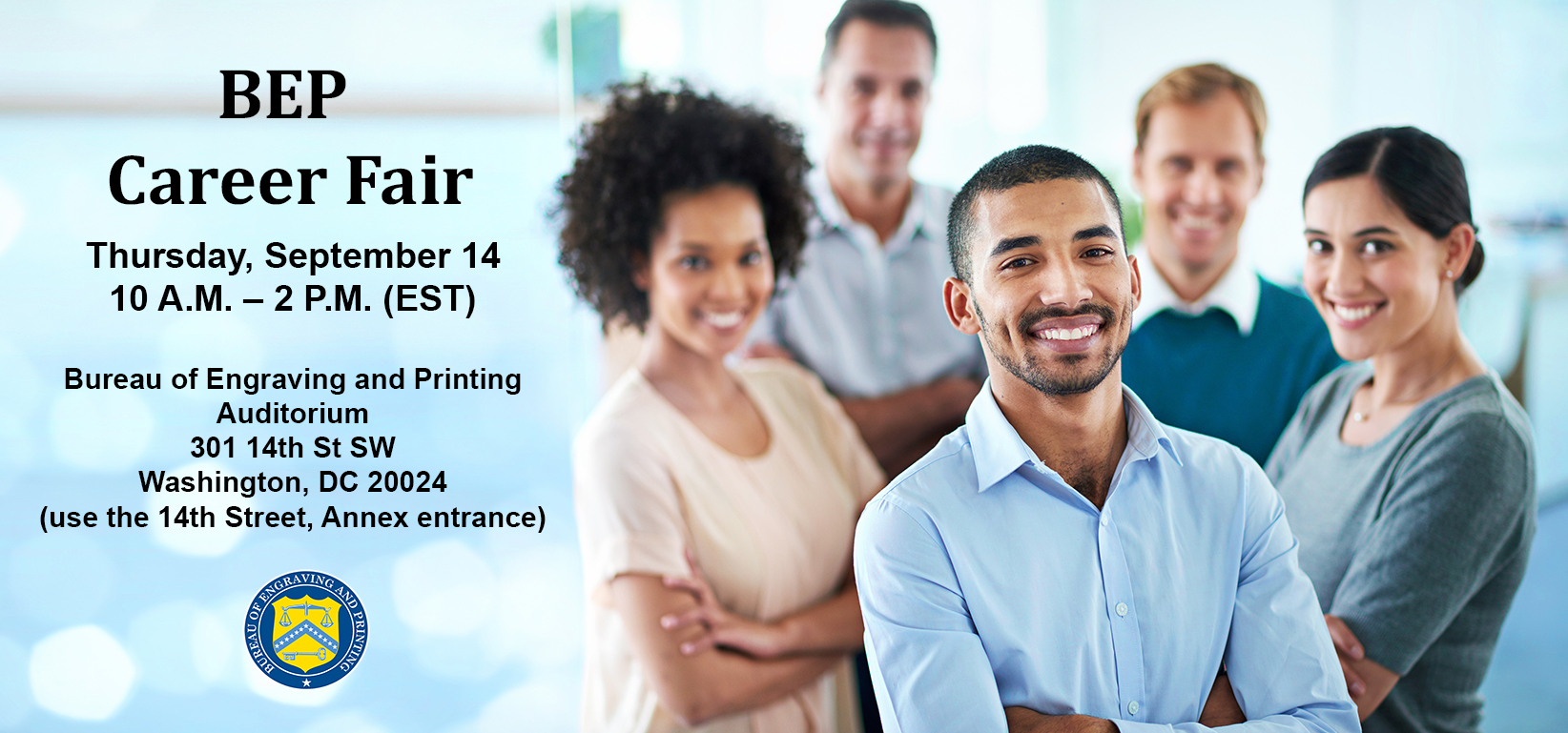 2023 Bureau of Engraving and Printing (BEP) Career Fair!
Attention all jobseekers, are you ready to take the next step in your career?  Then join us at the Bureau of Engraving and Printing in Washington, D.C., on Thursday, September 14, 2023, from 10 a.m. – 2 p.m. (ET), for an exciting, in-person career fair event.
The BEP is looking for talented, innovative and hard-working individuals to join its highly specialized workforce.  Whether you're a fresh graduate or an experienced professional, this event is your chance to explore employment opportunities with the premiere world currency banknote manufacturer, the Bureau of Engraving and Printing.  Discover a wide range of career paths in the world of banknote production and learn about the fascinating processes behind the creation and manufacture of United States currency.  The BEP offers a wide range of great career opportunities in fields like manufacturing, technology, financial management, STEM and law enforcement, just to name a few.
Registration is required to attend.  Space is limited.
Before the event:  Create and be able to access your USAJOBS.gov account.
What to bring:
A photo ID (such as passport, state-issued ID card)
Resume
Transcripts for all undergraduate and graduate level education, if applicable
If you are a veteran:

 

(1) DD-214 showing character of service; and, (2) Veterans Affairs (VA) disability rating letter, if applicable.
If you are an individual with a disability: 

A letter stating you have a qualifying disability from a medical professional or other organization that grants disability benefits.
Don't miss this unique opportunity to connect with representatives from the Bureau of Engraving and Printing, engage with industry experts and network with like-minded individuals.  Mark your calendars and get ready to take the next step in your career!
We look forward to meeting you!