The BEP provides meaningful access for a large segment of the blind community through mobile device applications, which allow smartphones and similar devices to function as currency readers.  The apps are free and denominate currency with a few easy steps.
 
EyeNote® App
Originally released in 2011, EyeNote® is a free mobile device application developed by BEP as an aid for blind or visually impaired individuals to identify denominations of Federal Reserve notes from Series 1996 to the present.  EyeNote® is built on the Apple iOS platform and is available to download for free in the Apple App Store℠.
The app uses image recognition technology and the device's integrated camera to recognize a Federal Reserve note and communicate the note's denomination back to the user.  Since it utilizes a continuous scan function, there is no need to hold the device still or capture a photo first; once the app scans the note, it denominates the currency.
As of January 22, 2018, the updated EyeNote® 3.0 app is now 64-bit and works on Apple mobile devices that support iOS version 9.1 or greater.  These include Apple iPhone® 5 and newer models, 5th generation iPod® Touch and later generations, and iPad®2 and newer models.
Other EyeNote® Features: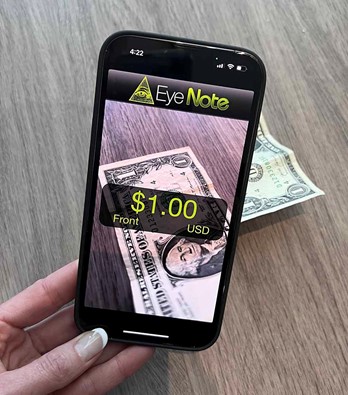 Utilizes VoiceOver for vocal and gesture feedback if it is turned on for the target iOS device
Privacy mode communicates results with an audible beep or pulse pattern
Runs without any special filters or background material
Does not require a data connection – all processing on device
One touch, hand-held operation
Identifies face and back of note in any orientation
Camera flash is not required
2 to 4 second response time
Supports English and Spanish languages
EyeNote® does not authenticate a note as being either genuine or counterfeit.  Please refer to the license agreement on the Apple AppStore℠ for additional information.

Directions regarding installing and using the EyeNote® app can be viewed here.
IDEAL® Currency Identifier
The BEP, in collaboration with the Department of Education, assisted in the development of the IDEAL® Currency Identifier, a free downloadable app that operates on the Android platform.  It uses text-to-speech voice and advanced image recognition technology to read a note and, in a matter of seconds, provides users with an audible response indicating the note's denomination.  IDEAL works locally on the device and needs no Internet connectivity.  This application was not designed to, and does not, identify counterfeit currency.
Any reference or web links on BEP's website to any particular person or organization or to activities, products, or services related to such person or organization, is for information only and does not constitute affiliation, endorsement, sponsorship, sanction, or recommendation by the Bureau of Engraving and Printing, Department of the Treasury, or the United States government. 
The launch of these apps is not in lieu-of the other accommodations the government is developing to assist blind and visually impaired individuals in denominating U.S. currency.  These apps simply provide another option for the public, who are increasingly using mobile devices, to independently denominate U.S. currency.